Concerns over the spread of the corona virus, especially in view of the up to one in five workers who government estimates could be compelled to stay at home if the virus reaches the next stage, have revitalised a bit of interest in the potential of people working from home.
There are indeed rising numbers of people who are working from home, and 1.72m regularly did so in 2018, some 6% of the workforce, even if the rise is a little slower than advocates of flexible working policies would have hoped. The trend is certainly less than might have been expected from the scale of some major experiments taking place among large hi-tech employers in the 1990s, although a backlash was, sadly, clearly visible in some equally large hi-tech workplaces in the early part of this decade.
I was a homeworker between 2003 and 2016 and, aided by a supportive trade union employer, I hope I was a successful one. Currently, I'm a freelance writer and editor, and this post was written while sat at my desk, located in the office in my home.
As part of my work while in full-time employment, I used to edit a regular newsletter for the union's homeworking members in which I regularly invited readers to contribute entries to our own 'hall of infamy' as regards the sorts of pictures which media organisations use to illustrate stories about homeworking. Frequently, these tended to feature young people slouching over a laptop, soft furnishings or kitchen counters in full view, adopting in the process a variety of unsuitable and unhealthy postures; or which portrayed them somehow balancing laptop and baby, sometimes with a mobile phone thrown in for good measure. There was always quite a haul. This is evidently not 'homeworking' – the clue is in the name; and, while homeworking might allow people better to juggle work responsibilities and domestic caring ones, the two – as in traditional workplaces – ought only rarely/never to come into contact with each other. Dedicated facilities are required, in both cases.
Consequently, it was a little disappointing to see BBC Scotland illustrate its story on Tuesday this week, on whether working from home would become the new normal, with a customary image drawn straight from the hall of infamy: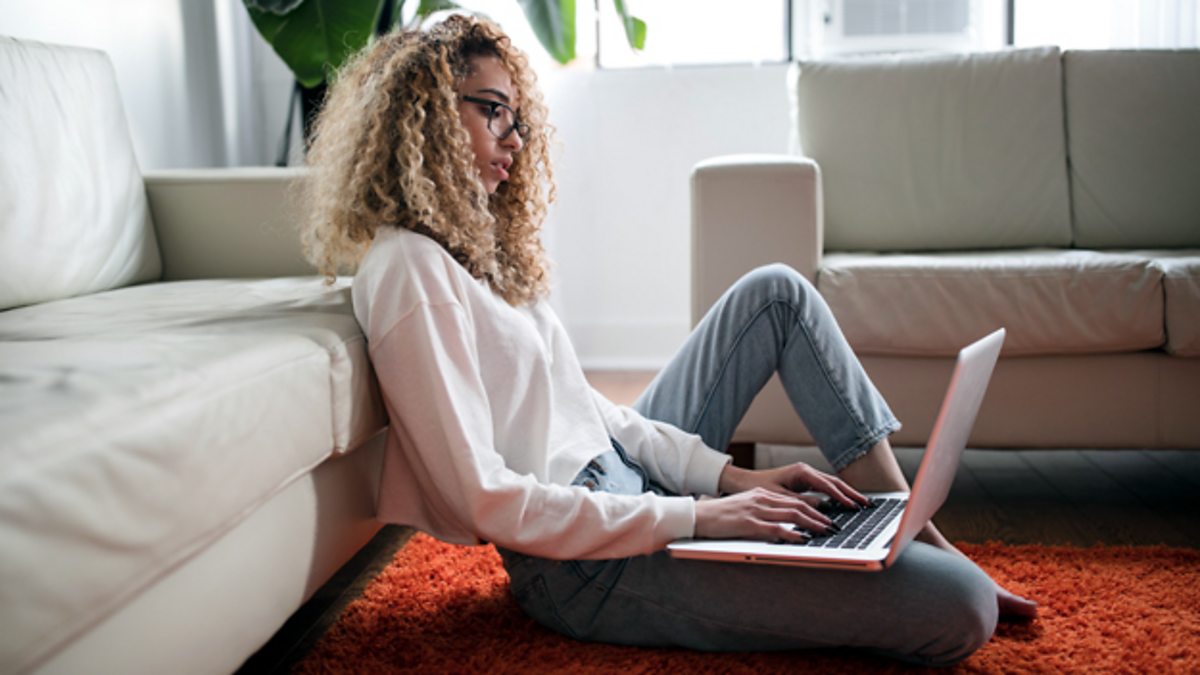 I'm not quite sure what this young woman is doing but, if it's work, well, she won't be doing it for long sat like that.
The trouble is, as all homeworkers know, this sort of image just feeds the prejudices – that homeworkers are not really doing a lot other than respond to phone calls as they come in and, strategically, a few e-mails now and again. In short, that working from home is a skive, and an unhealthy one, frequently carried out by people in their PJs (and often in bed or, otherwise, sat cross-legged on the sofa), punctured by regular trips to the fridge, to the washing machine, to the TV or, once dressed (presumably), to the shops.
The reality, of course, is that homeworkers are usually more productive – there is nothing necessarily efficient about office working, where distractions are also ever-present and frequent; while there is of course an 'observed worker' effect in which people who are in the eye of their managers, so to speak, need frequently to show their effectiveness. And this very well describes the position that homeworkers are in. Typically also, the output of a modern day is infinitely measurable and there is nothing less in this respect about work being done at home compared to in an office. After all, work is what you do, not where you do it.
The jury might remain out on the environmental benefits of homeworking – some assessments showing a positive impact are now a little out of date; while other important ones are apparently lost to website changes (even if the press release is still available). Coincidentally, just a couple of weeks before the BBC Scotland story, elsewhere on the BBC, on its 'Worklife' project, there was a lengthy blog pointing to the nuances of the debate in which, with energy supply, including for transport, coming from increasingly renewable sources, there is a potential undermining of some of the argument for the sustainability of homeworking in the long-term. Even so, there remain clear pointers – and ones that are academically sustained – in favour of homeworking in terms of the reduction of network congestion and vehicular emissions in which there is an immediately positive return to health and to sustainability.
Working from home doesn't suit everyone – and nor is everyone's home necessarily suitable for homeworking. You do need to be possessed of a certain sort of temperament as an individual – ideally, the type not to need a lot of human interaction to sustain interest – and your home does need to be suitable for adaptation into an office environment: not necessarily a room set aside as an office, although that is the ideal, but otherwise a committed space in which you can go to work, undisturbed and which, equally importantly, doesn't impinge on the rest of your home life once you've wrapped up for the day. It is for sound reasons that all homeworking must be a voluntary initiative – on both sides; and, if it is not – as always – see your trade union.
As is frequently the case, there is a calculation to be made, and a balance to be struck, about the benefits of homeworking and the suitability of homeworking solutions to domestic problems, or even to mass outbreaks of contagious and life-threatening illnesses.
Just no more the balance of I've-got-my-laptop-on-knee-while-I'm-sat-on-my-floor-but-I-am-working, please.